A Disney Proposal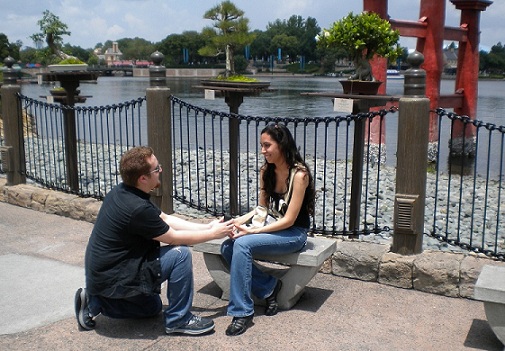 Natalie didn't want a diamond. Whenever we talked about it, that was one thing she always said. she also really loves Disney. When I really sat down to think about how to propose to her, I realized she actually made my job really easy. Provided my roguish charm and good looks had persuaded her family to give me their blessing, that is. (It was).
The two of us have always had a pretty big emphasis on our anniversary, and we like to do something special. We had been to Disney World before lots of times, and the idea of going on our anniversary wasn't anything crazy sounding to Natalie because of it. I made sure that we made plans to stop at Epcot during our trip. The World Showcase has a section on Japan with a neat shop in it that sells all kinds of things, including a station where one can choose an oyster out of a pool and get their own, one-of-a-kind pearl that can be set into jewelry. Natalie has a soft spot for unique jewelry, as it happens, and my plans revolved around waking up at the crack of dawn to get to the park and hustle all the way to the back of Japan before anyone else got there so that we could have a little privacy, even though my plan involved a bit of spectacle.
I think she may have suspected what I was up to when I was rushing to the back of the park, but everything had to be just so. When we eventually made it back to the very back of the World Showcase where Japan sits, the area was still totally empty. When we walked in the shop, we were the only people there. It was perfect. I went to the oyster counter and bought a whole bunch of tickets. By that point Natalie quite obviously knew she was getting a piece of jewelry (it was our anniversary after all) but I don't think she ever suspected what I was going to do with it. She had to pick out a whole bunch of oysters and we watched while the lady behind the counter opened and measured each one and played a little song on their Japanese drum while they told her how beautiful each one was. It was a little silly, but we were having fun with it. After we were done I told Natalie to pick a ring setting she liked, and they told us to come back in a while to pick it up.
We spent what I think was about a hour walking around the area with me feeling more and more anxious, not because I thought Natalie would say no, but it started to dawn on me I think, the gravity of what I was about to do. When we came back to the store and got the ring, they threw a wrench in my plan by telling me that she wasn't supposed to actually wear the ring right away. Well, rules be damned, I wasn't going to let them ruin my moment like that. We went outside and I led Natalie to a bench overlooking the large lake in the middle of the World Showcase at Epcot, and proposed right there in front of the world and whoever else happened to be walking by. Several people noticed what was going on and congratulated us, and one of them even took a picture of us. Of course, we both had a pretty big laugh when I told her she had to take the ring back off and put it away so it didn't break, but it was well worth it, both for the moment, and the rest of our lives.